I have always loved fall for a lot of reasons. I love the change in the seasons that's so obvious when going from summer to fall. I love the feeling of needing to hunker down, clean up and make ready that the crispness in the air brings (even in the south where our winters aren'tusually that bad). I love that back-to-school, new year feeling of wanting to start new things in fall (even though school starts nearly two months before fall does in these parts).
Mostly, I love the clothes. I feel like it's easiest for me to dress well in the fall compared to any other season. I love the ease of pulling on a a pair of jeans and a long-sleeved T-shirt, throwing on a jean jacket, a scarf and some boots. Lightweight sweaters, dresses with leggings…sign me up.
This year, though, it's a little different.
Since I got those boots from Country Outfitter, it's been cowgirl boots instead of knee-highs like I would usually wear. And I kind of like that. This picture is the only one I think has been taken of me this fall. It's from the Kraft Dibs on My Ribs cookoff event (which I'll tell you more about tomorrow, but it was a lot of fun) and that's Bethany from The Big Red Pot, me (from here!), Kristy of Mommy Hates Cooking and Jared and Annette from Collective Bias.
It's not an awesome picture, but I was wearing a black T-shirt dress, skinny jeans and those boots. Simple, but cute enough to rock a middle-of-the-day country music concert in the rain, right?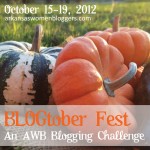 There, a post about fashion from an incredibly unfashionable person. What drove me to such lengths? It's those Arkansas Women Bloggers again, who are sponsoring Blogtober Fest this week to get us all writing on our blogs more regularly. This may be the only one I do, but I'll try!
Oh, and speaking of boots, look out for my giveaway for a $150 gift certificate to Country Outfitter so you can get your own great fall (or winter) fashion. It will start in a month, on November 16.
(Visited 77 times, 1 visits today)