Today's challenge form Blogtober Fest is to promote and old post. This is an easy one for me because it's my most popular post ever.
How to Lengthen a Shirt with Another Shirt was born out of the frustration of having a tall, skinny kid whose tummy was always showing in her shirts long before she was ready to go up a size. If I recall correctly, I took a shirt that had a stain on it, cut out the hem and a couple extra inches and sewed it to the inside hem of another shirt, making an almost instant longer shirt out of something that would have had to be tossed anyway.
This same procedure would work on adult shirts, too, of course, since no one wants their belly hanging out when it's cold outside (or ever, if you're a mom).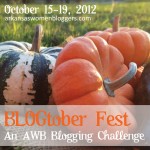 I chose this post to share not only because it's my most popular but also because I recently saw it pop up again on Pinterest, pinned by someone I don't know, months after it was first published. That's one of the awesome things about Pinterest; you know that people are at least seeing your stuff and hopefully making use of it, too. (It's also one of my most pinned projects, with more than 40 individual pins of it, plus all the repins off that. I know that's not a whole lot, but it is for my wee blog!)
(Visited 81 times, 1 visits today)